この記事は公開されてから1年以上経過しています。情報が古い可能性がありますので、ご注意ください。
I attended aws community day south asia and came across a interesting seminar related to S3 Attack and its defense i have shared my learning below
Agenda:
aws S3 attack/breach Scenarios
Introduction to threat modeling
Threat Modeling in S3
Preventing
Detecting
Hands On with S3 audit
S3 attack/breach Scenarios
Scenario 1: Misconfigured S3 Bucket with Customer Data
Scenario 2: github code commited with aws access keys associated with S3 Permissions to customer Bucket
Scenario 3: Attackers encrypting S3 buckets in victim aws  account with their own kms keys S3 ransomware Scenarios
Scenario Nth: there could be n Different Such Scenario to tackel
Introduction: Threat modeling
Threat: Any circumstance or event with the potential to harm an information system through unauthorized access, destruction, disclosure, modification of data, and/or denial of service.
Core steps for threat modelling:
Identify assets, actors, entry points, components, use cases, and trust levels, and include these in a design diagram.

Identify a list of threats.

Per threat, identify mitigations, which may include security control implementations.

Create and review a risk matrix to determine if the threat is adequately mitigated.
Threat modeling : S3
pick one feature of s3 involve in your data flow diagram
Identify Associated IAM/Bucket Action.
Create threat list and map it to the Mitter Attack
Set Security control objective and priorities
Testing and validation
参照URL:https://trustoncloud.com/the-last-s3-security-document-that-well-ever-need/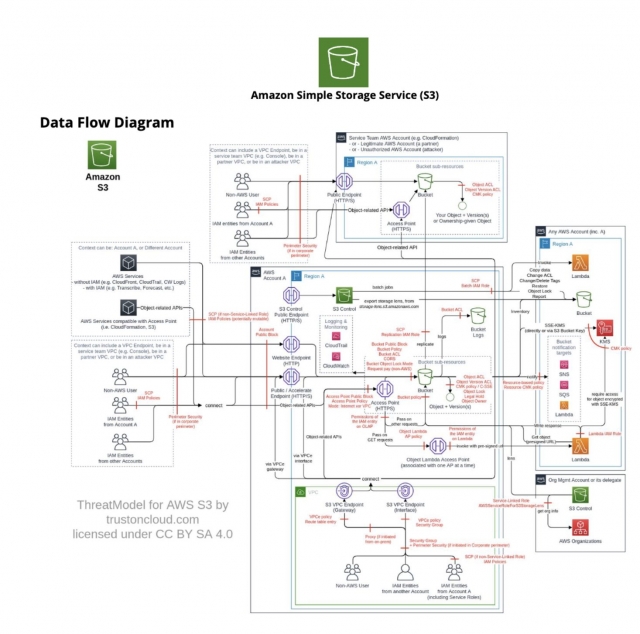 Preventing
Correct Policies and no Public Access
Least Privilege Access
Use of IAM Roles to access S3 Buckets
Enable MFA Delete
Encryption at Rest
Encryption at Transit
Use S3 Object Lock Use S3 Cross Region
Replication for backups
Use VPC endpoints for S3 Access
Detecting
Identify and Audit all your S3 buckets
Monitoring S3 Bucket Activity (S3 API calls)
Enable S3 Server
Access Logging
Use AWS Cloudtrail to record S3 Data Events
Enable AWS Config to simplify auditing for misconfigurations
Use AWS Macie to protect sensitive info.
Check Trusted Advisor
Hand on
Introduction: S3audit
s3audit checks your buckets against a number of good practices to provide clear, actionable insights into the health of your configurations. These checks include:
Does a public access configuration exist to block public access of the bucket and objects?
Do bucket ACLs or policies allow public access?
Is server side encryption enabled by default?
Is object versioning and MFA delete enabled?
Is static website hosting disabled?
prerequisite:
you should have aws account
configured aws cli with credentials
s3 bucket
npm install -g s3audit
s3audit --bucket=<bucket name>

Resources