この記事は公開されてから1年以上経過しています。情報が古い可能性がありますので、ご注意ください。
AWS Summit is a great conference to meet and network with similar-minded enthusiasts about the technology we all love I will introduce and recommend the contents in which I am excited to participate.
Complete DAY1[25-May] Agenda:
https://pages.awscloud.com/rs/112-TZM-766/images/aws-summit-india-agenda22.pdf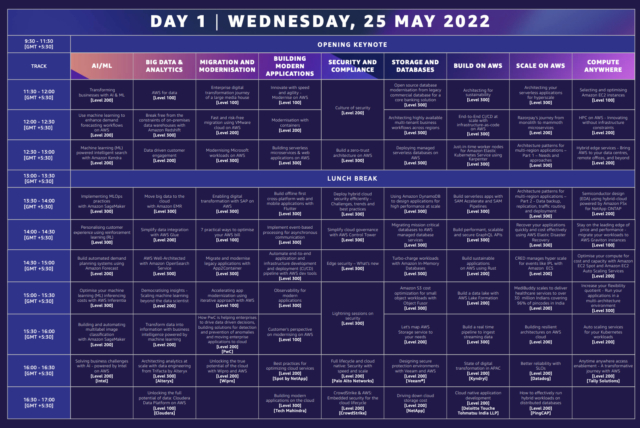 Complete Day 2 [26-May] Agenda: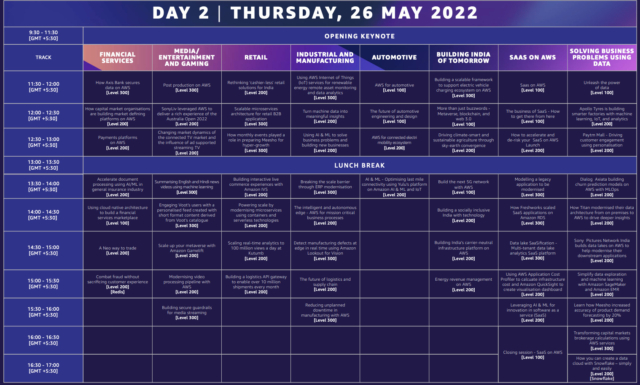 Experimental Area[25th and 26th May 2022]: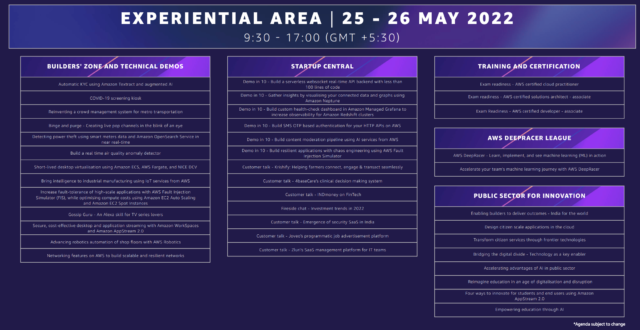 My Must Watch Tracks:
I am Interested in advanced deep-dive sessions on topics like Containers, Serverless, DevOps, Data Lakes and more.
Tracks:
Architecting for sustainability Level: 300 | Advanced By: Rohini Gaonkar In this session, We will learn techniques recommended by the AWS Well-Architected Framework Sustainability pillar and provide direction on reducing the energy and carbon impact of AWS architectures. Learn about best practices, which organisations of any size can apply to their workloads and how to review the new Customer Carbon Footprint Tool report with a demo.
End-to-End CI/CD at scale with infrastructure-as-code on AWS Level: 300 | Advanced By: Bhuvaneswari Subramani, In this session, We will dive deep into building a production-ready, multi-account, at scale CI/CD pipeline using your own Jenkins, with infrastructure-as-code using AWS CloudFormation, and discuss best practices for building DevOps capabilities for your container applications running on AWS.
Just-in-time worker nodes for Amazon Elastic Kubernetes Service using Karpenter Level: 300 | Advanced By: Dijeesh Padinharethil, We will See how Karpenter simplifies Kubernetes infrastructure with the right nodes at the right time. Karpenter is an open-source, flexible, high-performance Kubernetes cluster autoscaler built with AWS
Build serverless apps with SAM Accelerate and SAM Pipelines Level: 300 | Advance By: Jones Zachariah Noel N, We will learn how to use SAM templates to manage serverless infrastructure as code. He will share best practices for using the AWS SAM CLI and the recently announced AWS SAM Accelerate to develop and debug serverless applications on your local machine. He will also showcase the ease of CI/CD workflows with SAM pipelines to multiple staging environments.

Including this, there are  17 tracks with themes like AI/ML, Big Data, Cloud Security, and Compute Anywhere along with 5 experiential zones - exam readiness sessions Training & Certification, deep-dive demos in Builders Fair and Startup Central. Pick and join any sessions you wish based on the detailed
Extra Benefits of Summit:
I will Recommend Participating live. Because it will get you an opportunity to connect with peers, and tech enthusiasts, ask questions to experts, and last but not the least, win swags.
You are eligible for the certificate of attendance, as long as you complete watching 5 sessions or more during the conference and you stand a chance to win $25 AWS credits too. Also, watch 2 or more express training in the Training & Certification Zone and be amongst the first 2000 to get the discount certification voucher!
Sign up for the free event today With the below link
AWS Summit India event Website - https://aws.amazon.com/events/summits/india/https://aws.amazon.com/events/summits/india/
Its Started But you can Still join, Let's enjoy and learn.