この記事は公開されてから1年以上経過しています。情報が古い可能性がありますので、ご注意ください。
AWS EC2 C6a, a new series of EC2 instances based on third-generation AMD EPYC (Milan) processors, is now available. The series was created by AWS for workloads that demand high performance.
According to AWS, the EC2 AMD EPYC C6a CPUs provide a 15% gain in price-performance over the previous C5a series. According to reports, the introduction is up to 10% less expensive to run than equivalent EC2 x86 instances.
Configurations
AWS EC2 AMD EPYC C6a instances are available in ten distinct configurations, beginning with two virtual CPUs, four gigabytes of memory, up to 12.5 gigabits of network bandwidth, and 6.6 gigabits of throughput for Amazon Elastic Block Store (Amazon EBS). The most comprehensive configuration includes 192 vCPUs, 384 GB of RAM, 50 Gbps of network capacity, and a throughput of 40 Gbps for Amazon EBS.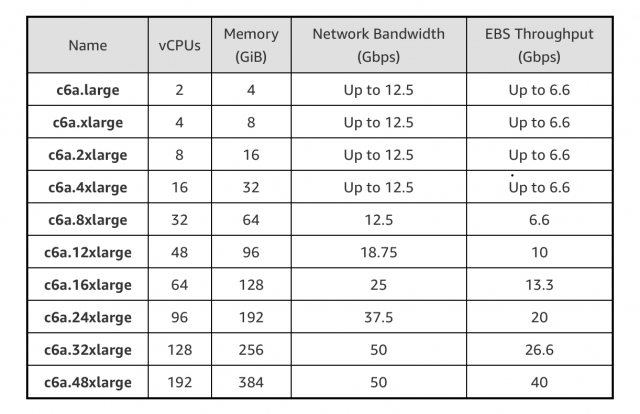 Workloads with high performance demands
According to Amazon, the instances are best suited for workloads and applications that need a large amount of computational capacity. High-performance web servers, batch processing, ad serving, machine learning, multi-player gaming, video encoding, and scientific models are examples of these.
For this purpose, the AWS C6a instances feature constant memory encryption with AMD Transparent Single Key Memory Encryption (TSME). In addition, the series includes additional AVX instructions for speeding up encryption and decryption algorithms.
Availability
The AWS EC2 EPYC C6a series is now available in the regions US East, US West, and Europe.