この記事は公開されてから1年以上経過しています。情報が古い可能性がありますので、ご注意ください。
AWS Summit - Berlin June 6th2018
Hallo Liebe Leute!!
I was lucky enough to participate in the AWS Summit right here in Berlin, near our Classmethod (Europe) location.
The AWS Summit was held at STATION Berlin earlier this week from June 6-7.  It was a two day event with the intention of demonstrating the innovative ways companies are employing AWS services to deliver unbelievable experiences for their customers.
In their own words the Summit shows:
how the cloud is accelerating innovation in businesses of all sizes.
It was a nice exhibition over all, complete with catering and a friendly service team making sure that none of the drink fridges were ever empty. The event started early, with the first keynote address taking place at 9:30.
There were many participants as well as attendees. For the keynote address, every seat in the main hall was taken, with still more people outside visiting booths and talking to other companies.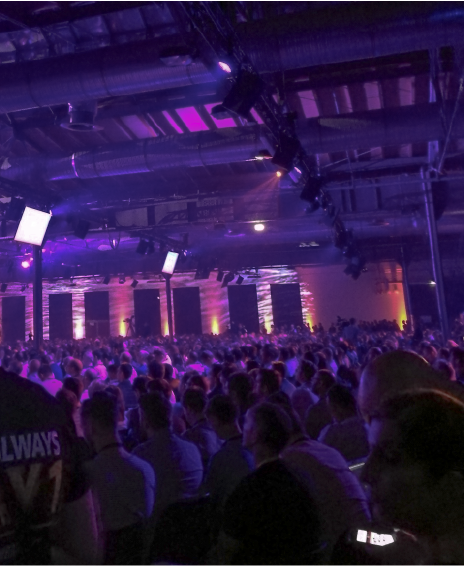 STATION in Berlin is quite a large hall, as you can see from this floor plan.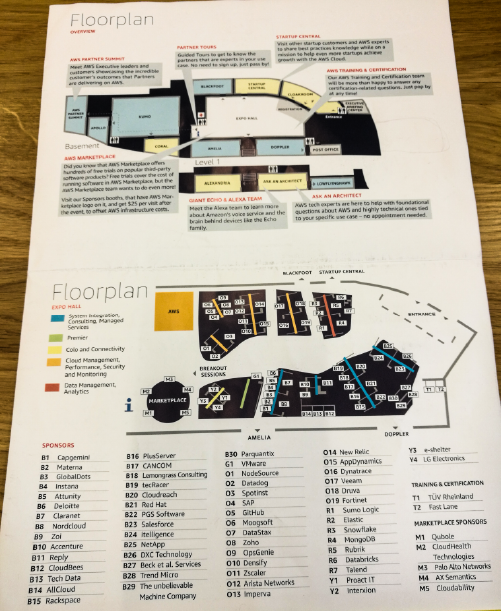 Like other AWS events, there were several halls to accommodate all the breakout sessions that took place.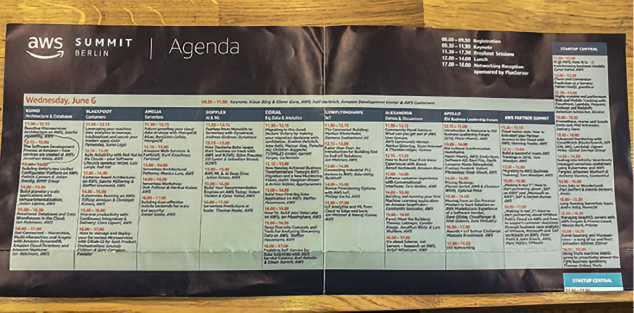 I was invited to attend a talk given by representatives from Sumo Logic called:
"Leveraging your machine data analytics to manage, troubleshoot and secure your modern apps".
Sumo Logic is an American based company with headquarters in California. They offer a "cloud-native, machine data analytics service for log management and time series metrics"
Sumo Logic's talk focused on meeting challenges that companies face such as:
 lack of visibility/insight into your stack,
growing skills gaps,
and data overload
They approach these challenges with a "modern Integrated Approach to Analytics", namely Monitoring, Investigating  and Optimising with Machine data Analytics.
Overall Experience
As a female at the Summit, it's hard to neglect the obvious that the ratio of guys to girls is incredibly imbalanced.  However that's sadly just the norm.  On the plus side, I never had to wait on line to go to the bathroom, and I always had a jolt of schadenfreude as I saw how long the line was for the Men's bathroom. MWAHAHAHA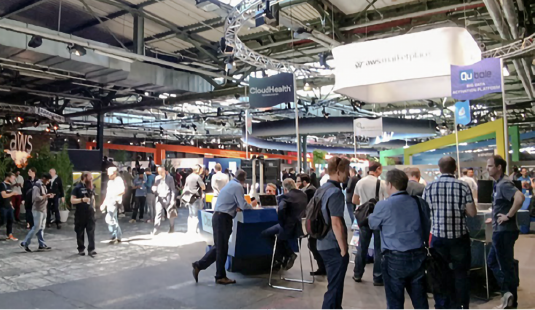 Regardless though, the Summit was still a great way for me to meet many interesting companies, and learn about the ingenious services and products they offer. Additionally it's fun to collect all the free promotional items!!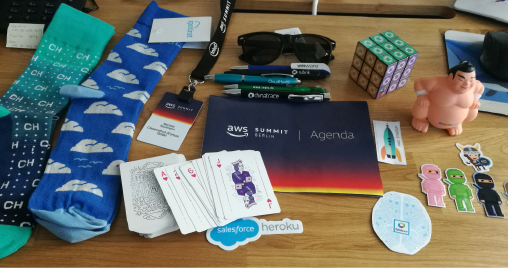 Speaking of free stuff, before the Summit began on June 6th, there was a Partners dinner held at Pier 13 in Berlin the night before.  We were treated to a nice dinner on the river, and a few prizes were given out to a few exemplary companies for their achievements.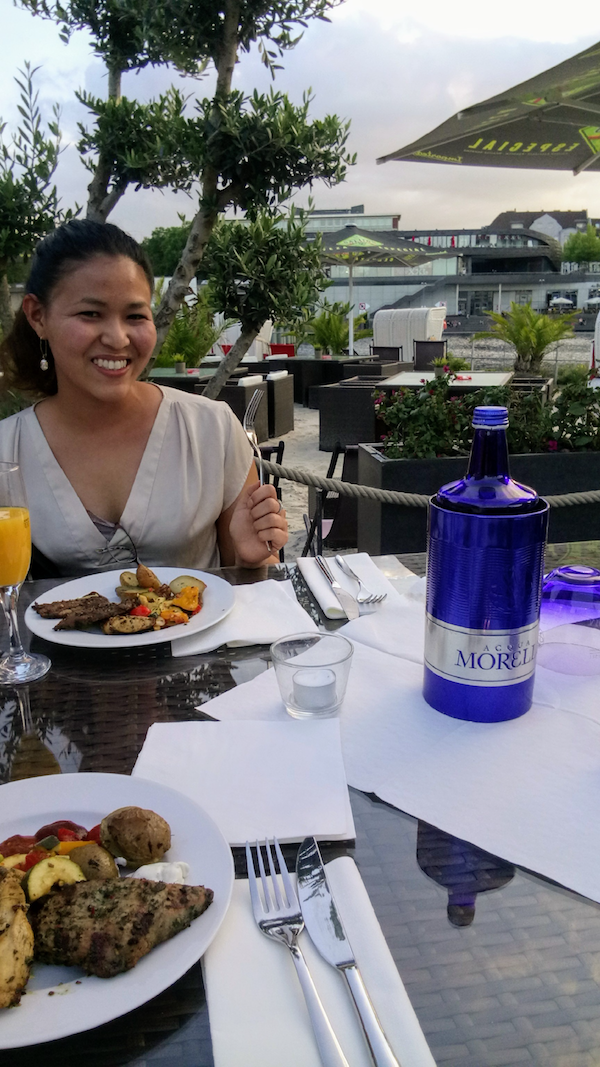 I have a few awards to give out myself. Unfortunately my awards are not as prestigious, but it does give me an opportunity to tell you about some of the cool businesses I met during the Summit.
Best Pen Award – Dynatrace.

Dynatrace does amazing things. Their product aims to "Understand in real time how application code running in your hybrid multi-cloud impacts your customers and your bottom line." They have crisp and clear interfaces for you to obtain extremely specific insights into any department or category of your business.
Best Promotional Item – Heroku (a Salesforce Company.)
Salesforce is always a huge sponsor at AWS' events.  They are a very successful company with a huge impact. Heroku offers a "fully-managed platform that gives you the simplest path to delivering apps quickly."
Take a look at how cool this deck of cards is.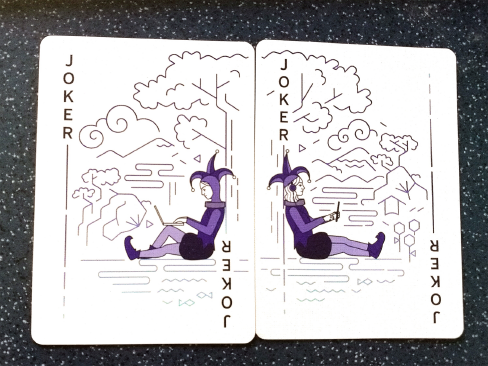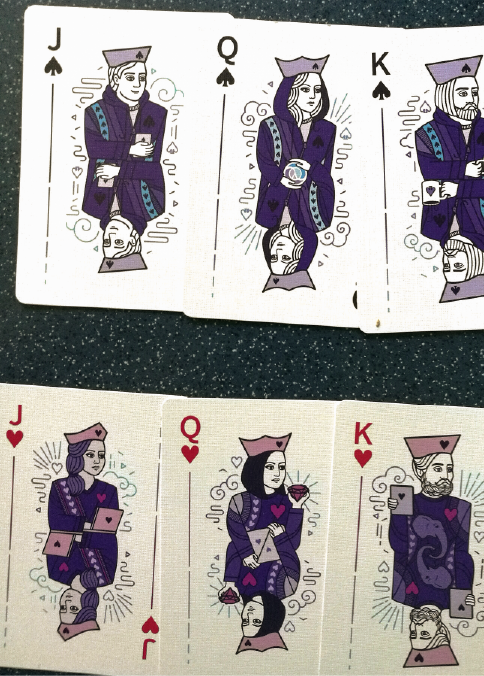 Cutest promotional Item – Sumo Logic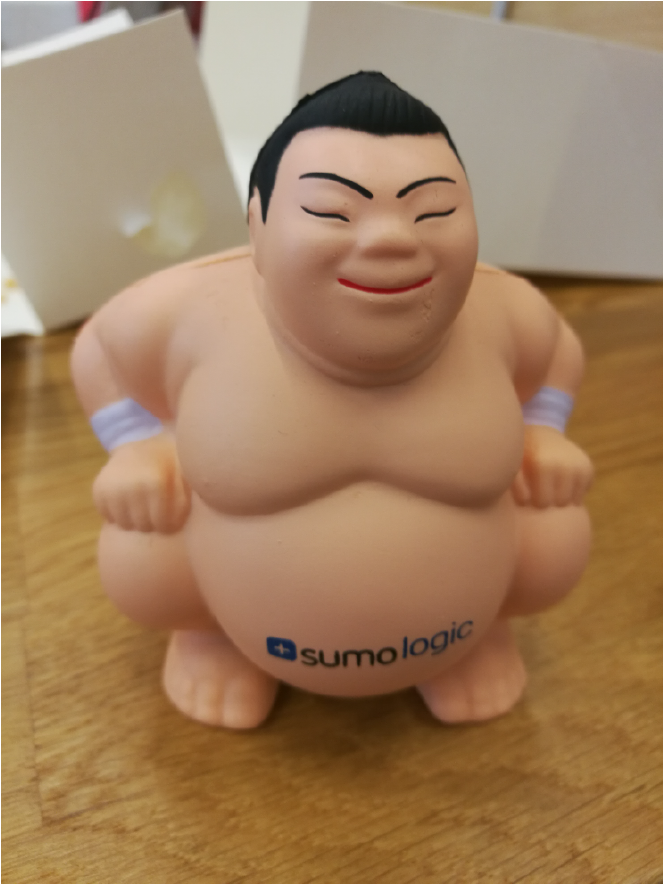 You can squeeze his belly to relieve stress!
So there you have it. That was my day at the AWS Summit.  As an employee of Classmethod, a Premier AWS Consulting Partner, I am always amazed at the variety of innovation that companies manage to put forth using AWS technologies.  If you are interested in integrating AWS technology into your business, we are more than happy to assist you with integration, migration or cost effective strategies.