My Day 1 Agenda
The sessions I'll be attending on Day 1 of AWS Summit India are listed below.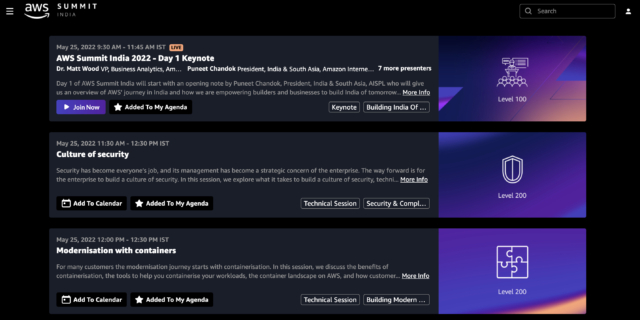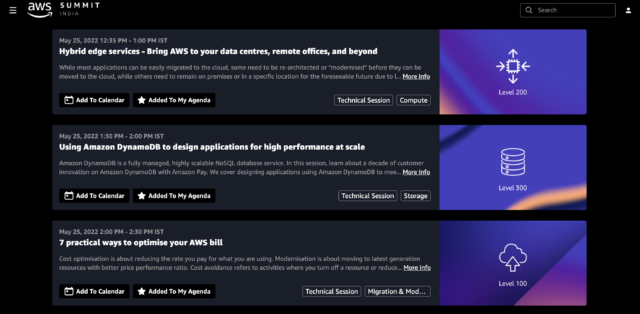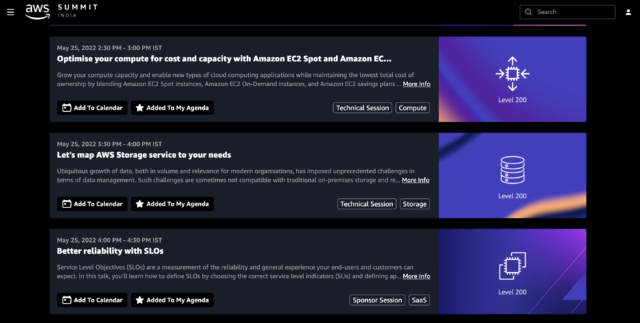 1. Culture of Security
Security is one of the most important factors for businesses, and this session will help me get a better understanding of what kind of security best practises to follow, as well as expand my knowledge of security techniques and mechanisms available on AWS.
2. Modernization with Containers
Containerisation is where many customers begin their modernisation journey. This session will go over the benefits of containerization, tools to help you containerize your workloads, the AWS container landscape, and how customers can choose the right tool for the job.
3. Hybrid edge services - Bring AWS to your data centres, remote offices, and beyond.
Not all workloads can be migrated to cloud directly, some need a complete redesign of architecture, some can be as easy as lift and shift while others must remain on-premises or in a specific location.
This session will explain how a hybrid cloud provides a consistent set of cloud services to support your applications and end users wherever they may be required. Show how TCS has used AWS Wavelength to deliver a variety of solutions for hybrid edge cloud business scenarios.
4. Using Amazon DynamoDB to design applications for high performance at scale.
Amazon DynamoDB is a NoSQL database service that is fully managed and highly scalable.
This session will go over a decade of customer innovation on Amazon DynamoDB with Amazon Pay. It will also cover designing applications to meet hyperscale concurrency, low latency, and high availability using Amazon DynamoDB.
5. 7 practical ways to optimise your AWS bill
This session will concentrate on the adoption of cost optimization, modernization, and cost avoidance methods to maximise the value of cloud computing.
6. Optimise your compute for cost and capacity with Amazon EC2 Spot and Amazon EC2 Auto Scaling Services
This session will discuss how to programmatically optimise costs while maintaining high performance and availability by combining the power of an Amazon EC2 Fleet with AWS services such as Amazon EC2 Auto Scaling, Amazon ECS, Amazon EKS, Amazon EMR, and AWS Batch. Examine cost-cutting patterns for workloads such as containers, web services, CI/CD, batch, big data, and others.
7. Let's map AWS Storage service to your needs
This session will go over AWS storage options for object, block, and file storage, as well as hybrid and edge options, and how these services can integrate with other AWS services like analytics and machine learning to help you realise the full potential of your data.
8. Better reliability with SLOs
SLOs are a measurement of the reliability and overall experience your end-users and customers can expect. This session will teach you how to define SLOs by selecting the appropriate service level indicators (SLIs) and establishing appropriate agreements with stakeholders. It will also go over the fundamental concept of error budgets, which provide you with a solid, actionable metric for balancing innovation and velocity with reliability and safety. You will also learn how to hold meaningful conversations about realistic availability, allowing you to define high-quality SLOs for your own organisation.
9. Driving down cloud storage cost
Shuja Mirza, Director, Solutions Engineering at NetApp, will give you a tour of the Amazon FSx for NetApp ONTAP service and how it is used by customers across the region to solve real-world problems in this session.
Conclusion
There are a lot of sessions out of which I have selected very few based on my interest and understanding, I probably won't be watching all of the above but I will go through them once today or later. These sessions will help me a lot in understanding a lot of different tools and services which I can use for customer environments and my work.
I also recommend making an agenda ahead of time because there are so many amazing sessions that it can be difficult to decide what to watch and what not to watch.