この記事は公開されてから1年以上経過しています。情報が古い可能性がありますので、ご注意ください。
Part II of Demo Day
November 30th – Berlin 3:30 pm. Startupbootcamp Digital Health Berlin Demo Day 2017 had already been in full swing since two p.m. My colleague Mai Ito and I, along with hundreds of others, were getting ready to hear the remaining six startups give their pitches.
If you would like to read more about the earlier pitches, as well as what happened during the first half of the event, please refer to this article
The second half began after a few words from our charming MC, and managing director of Sartupbootcamp Lars Buch.  He welcomed everyone back into the room and got straight to business by introducing the next startup to give their pitch.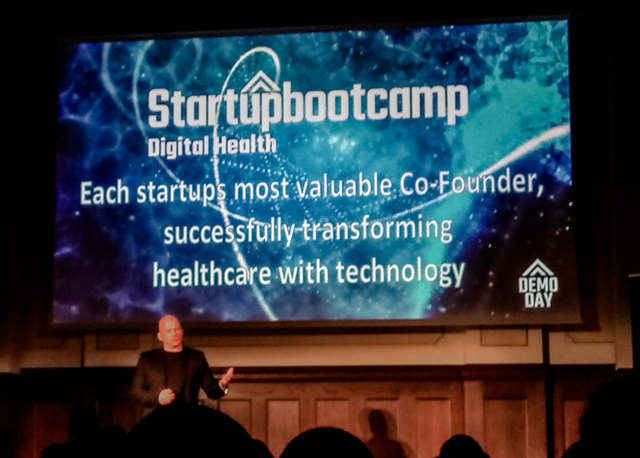 It's safe to say that after an exciting and intriguing first half, the audience was eager to hear more about promising and innovative Digital health products.
Pitches
Motognosis
CEO: SEBASTIAN MANSOW-MODEL
Motognosis' product is an impressive technology that provides
" in-depth motor symptom analysis in many previously inaccessible in-patient, outpatient and at-home settings thus leading to greater improvement of diagnostics and treatment monitoring."
Boca Health
CEO: ALESSANDRO FARAGLI
This company is a personalized hydration assistant.  It is a device that works together with an App.  Together the device and App keep track of the hydration status of people who suffer from chronic heart failure and kidney disease that have a history of water imbalance.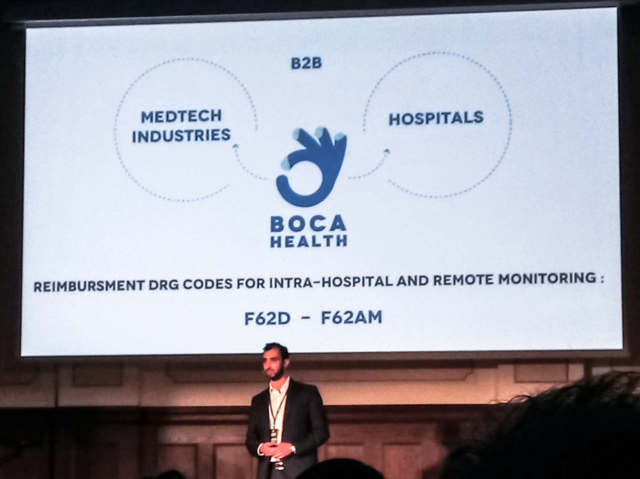 biotx.ai
CEOs : DR. JOERN KLINGER & DR. MARCO SCHMIDT
This company utilizes AI to detect and predict disease status and drug efficacy.  Their AI can predict if someone is at high risk for Alzheimer's, or other diseases.  They want to move away from the umbrella approach to medicine and use AI to provide better individual treatment.  It's the "AI Precision for medicine"
Jommi
FOUNDER: FABIAN IERTEL
Jommi's aim is to bridge the gap between patients and healthcare providers by making it simpler for patients to give data and for healthcare providers to have access to it with the end-goal of faster and better treatments results.
Uvisio
CEO: LARISA KRYUCHKOVA
CEO Larisa Kryuchkova started Uvisio from a personal experience she had with skin cancer.  Their product is a device and app that helps users take better, more accurate control of sun exposure.  The app can do skin type testing through photos and has a cool device that reminds people when to re-apply sun screen among other features.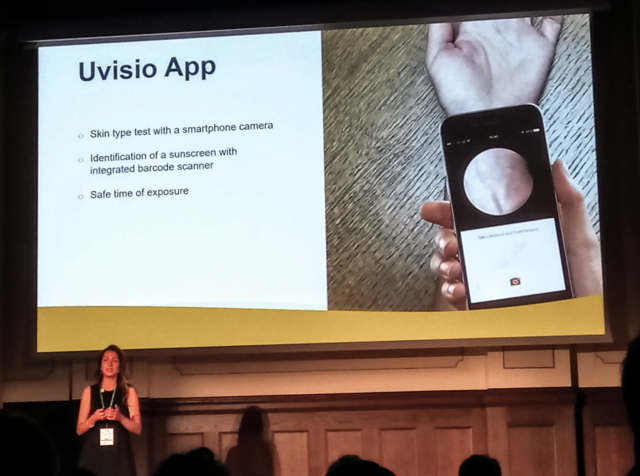 InsightMedi
CEO: JUAN GONZALEZ
The final startup to give their pitch was InsightMedi.  Their goal is to provide a cloud platform for healthcare providers, doctors, nurses etc. to share patient cases, including pictures securely.  With InsightMedi, it is possible for healthcare providers to carry out discussions, and exchange ideas and advice in a cloud environment among themselves without ruining the patient-doctor confidentiality due to it's selective and secure nature.
The End? Or a New Beginning?
All the pitches without exception were excellent.  They were a demonstration of true professionalism and intense preparation.
The conclusion of Demo Day ended with all of Startup Bootcamp, partners and all the startups getting on stage for a picture and a final applause for all the hardwork that was put into the culmination of this day.  Also, Lars got flowers. :)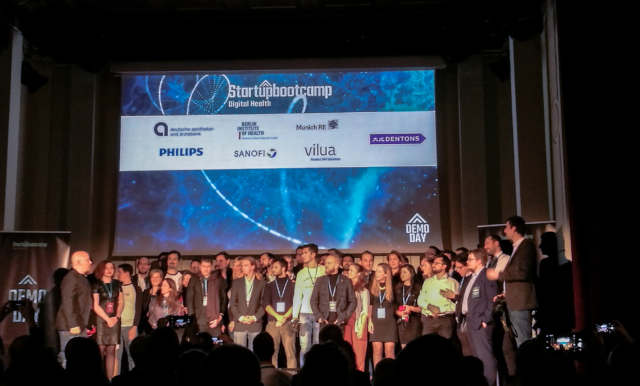 Sitting just as a humble observer, and hearing the pitches, I really had a sincere hope that all the startups would make their funding goals. Weather the end users would be hospitals, doctors, people with type-1 diabetes or people just going to the beach on vacation, all startups promised something novel to the field of Digital Health.
It was exciting to see all the creative ways that IoT and Big Data could be used to transform the ways that people take care of themselves, as well as how doctors will treat patients.  It also deepened my affirmation that no company exists in a vacuum.  These startups will have to rely on AWS or similar services in order to make their technology efficient, functional as well as affordable.  The world is getting smaller and there is no limit to how a service can support another service, which in turn can support something as tangible and valuable as physical health. The interconnectivity of the world will continue to grow alongside the interconnectivity of devices.  For more information on cloud optimization and integration, please check out our website.
Congrats to all the mentors that prepped their teams, SBC for finding these great startups, and of congrats to all the startups for getting up on stage and taking the next steps in their company's journey! Viel Erfolg!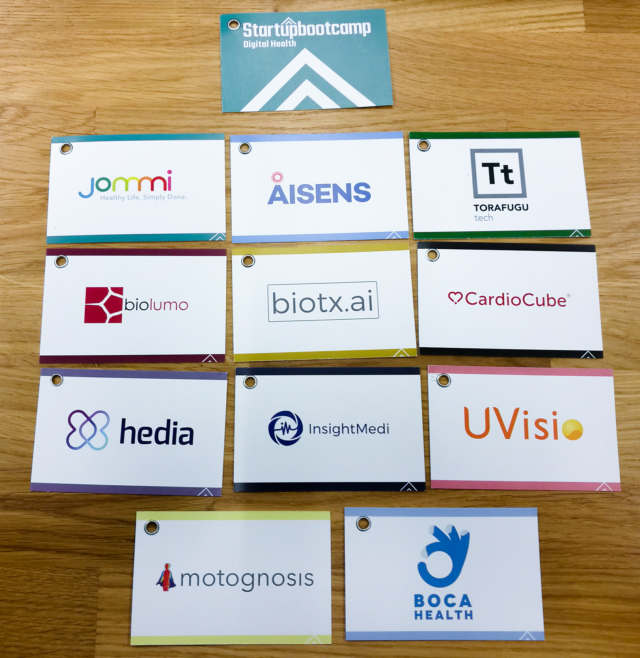 Classmethod (Europe) GmbH provides migration onto AWS, introductory support of applications on AWS, AWS operational support, consultation in cost-effective model of AWS, as well as localization in Europe/Japan and translation support.
For more detailed information and/or inquiries, please contact us via our inquiry form on our website.
Fun Fact!!!
The Meistersaal is a historical building located near Potsdamer Platz with a protected building status. For a time it was known as "The studio by the wall".  Many iconic artists such as David Bowie have taken advantage of the wood-paneled room with tremendous high ceilings to record music.  Heres a fun fact: David Bowie's song "Heroes" was written and recorded in the Meistersaal.  Consider the lyrics of the last verse:
"I, I can remember (I remember)
Standing by the wall (by the wall)
And the guns shot above our heads (over our heads)
And we kissed, as though nothing could fall (nothing could fall)
And the shame was on the other side
Oh we can beat them, for ever and ever
Then we could be Heroes, just for one day"