この記事は公開されてから1年以上経過しています。情報が古い可能性がありますので、ご注意ください。
Guten Tag!
AWS Transformation Day 2017 took place in the last week of October. The event was held in Cologne, Germany. A few of us from Classmethod (Europe) GmbH joined the two-day event.
Have you already checked out the overview of the event? If not, here are some related articles written in English & Japanese.
I got to meet some of the AWS partner companies that were there as sponsors. Let's go through their businesses real quick and learn what other things you can do with AWS.
AWS Sponsors
At AWS, there are many partner companies that support AWS-based business and technology. These include companies such as consulting firms, software vendors, and system integrators.
We, Classmethod, are also certified as an AWS premier consulting partner.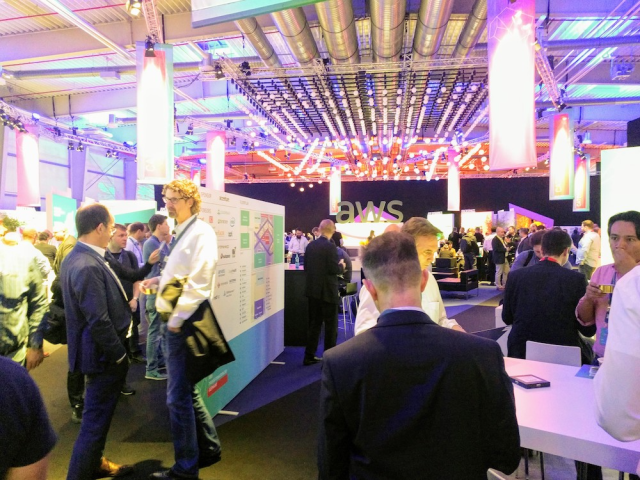 For this event, around 25 AWS partner companies joined as sponsors and set up their booths with attractive novelties to expose their business to potential customers.
You probably already heard of a lot of them!
Check out the list of sponsors here
Accenture
This was the event's only platinum sponsor! Although Accenture is a well-known leading global consulting firm, they also provide new service development, migration of existing applications, and operation services. Out of these services, they were emphasizing cloud transformation.
AWS was their top choice in choosing a cloud provider. They have over 1400 certified AWS technologists and countless delivered projects with AWS cloud involvement.
John Rhoton, an Accenture representative, who has a charming smile in this photo, told me about their cases with AWS platform. He also gave a presentation and examples on stage in one of the break-out sessions. Some of their clients include German Automotive company and Italian Energy (ENEL). (He also used to work in a different branch of the previous company I worked for. What a coincidence!)
*If AWS starts to release their slides of the sessions, you can find John's session under the title: "Cloud risk, performance and decisions - John Enoch, AWS & John Rhoton, Accenture"
dynatrace
Want to know where I got a pretty T-shirt and stickers? Dynatrace!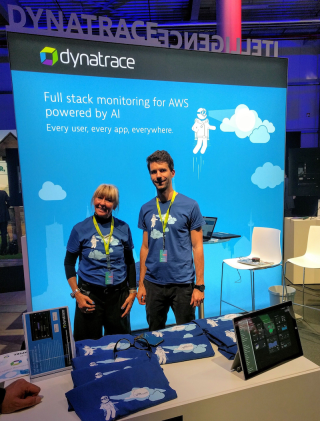 Dynatrace does application performance monitoring, which is easy to install and automatically visualizes the full-stack of your applications' components and independencies in real-time. The application automatically analyzes and learns your applications' normal behavior, and provides proactive automated root cause problem identification. With the fully-automated monitoring solution built on AI, the average time to resolution of performance issues will improve by up to 90%!
As an AWS partner, Dynatrace handles all the components of AWS services, across AZ and datacenters, enhancing the CloudWatch API.
Take a look at their fancy interface!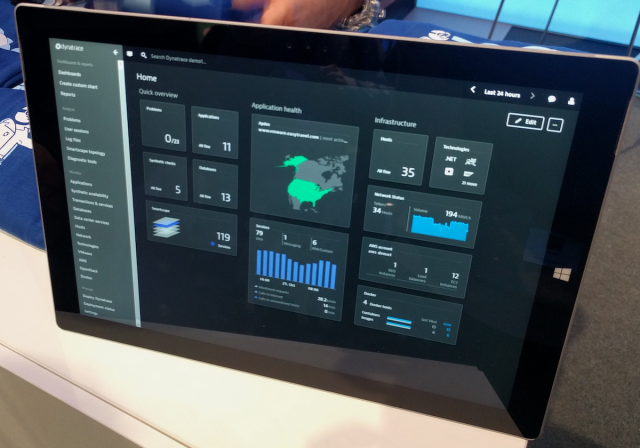 Get started with a free 15-day trial!
APPDYNAMICS
AppDynamics covers application performance monitoring, similar to Dynatrace.
Here is a quote taken from the AWS brochure which explains their application.
AppDynamics Provides: Breadth of visibility into every application, dependency and user's experience through accurate, real-time architecture maps, giving peace of mind and accelerating cloud migration plans.
You can also get a 15-day free trial for Appdynamics! Give them a try and learn how they work!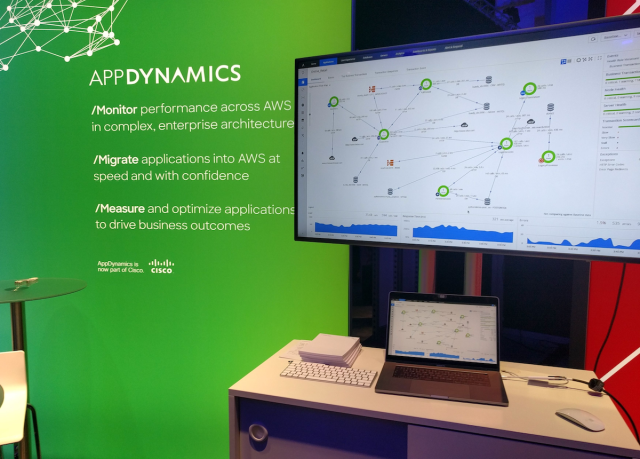 Thank you for the cute octopus, Paulos! And the geeky T-shirt as well!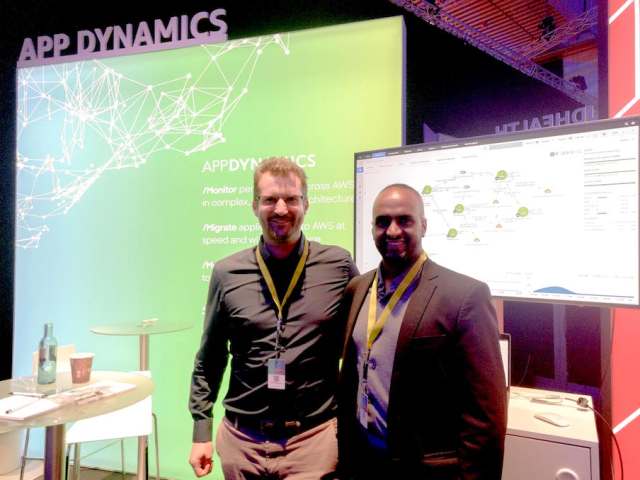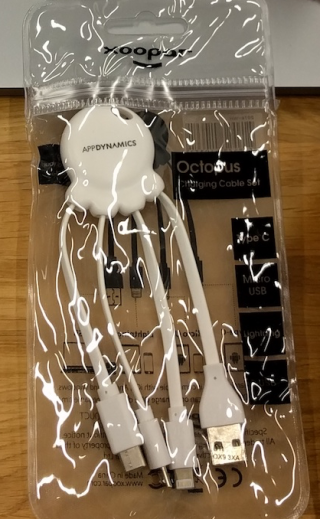 TÜV Rheinland Akademie
TÜV Rheinland is known for being a certificate authority of various technologies in Germany. But did you know that the Academy is also one of Germany's leading IT training companies? You can choose from wide range of IT trainings, including cloud and AWS. Training is done in various ways, such as seminars, live online trainings, webinars etc.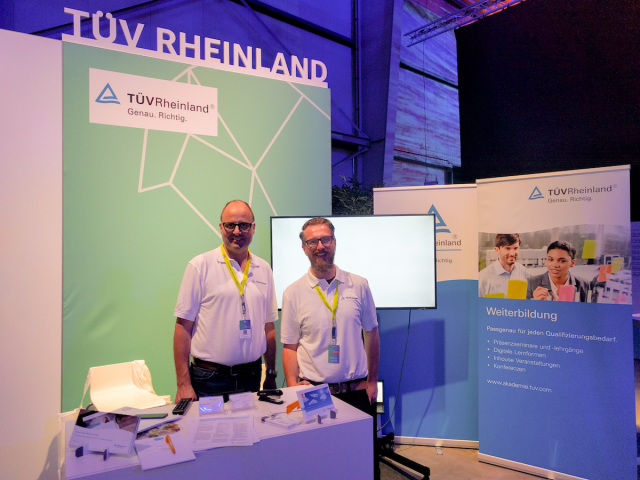 Every year TÜV trains over 10,000 IT professionals, experts and end users in over 2,000 sessions. * Check out their learning opportunities in Germany: akademie.tuv.com
*Information provided from AWS brochure
DB Systel
Deutsche Bahn (DB) is the national railway company in Germany. I use their trams and subways every day.
DB Systel however, provides AWS WorkSpaces for customers in German-speaking countries. These AWS WorkSpaces provide companies access to all work-related data, documents and applications they need. The data is accessible on any device, even smartphones.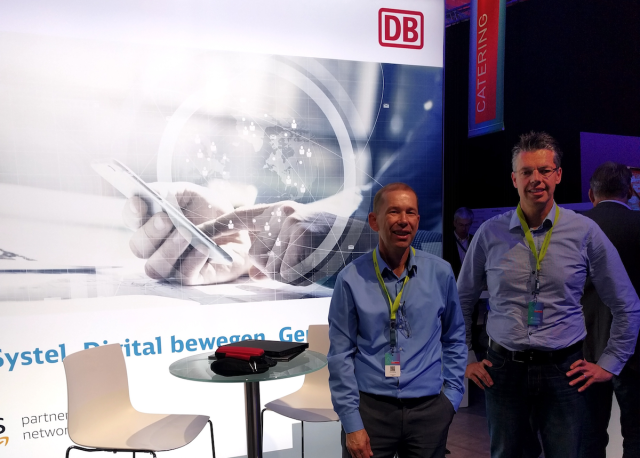 Two representatives of DB Systel told me that they are currently in the middle of a big project to migrate all their on-premises data centers into AWS. One of the many advantages of doing this is that AWS is the only cloud service that can manage DB Systel's on-premises data centers within three different AZs in Germany. A representative had told me in our interview that security was one of main reasons for choosing AWS instead of other cloud services.
EQUINIX
If you use AWS Direct Connect, you should know who supports your underlying network!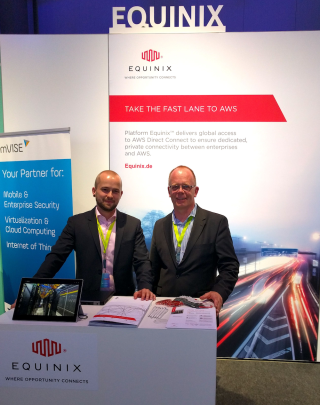 Equinix operates the only global interconnection platform. Equinix provides global access to AWS Direct Connect, establishing a private network from on-premises location, or Equinix data center, directly to AWS.
As of 2017, it owns 180+ data centers and 240,000+ cross connects in the world. *
AWS Direct Connect
AWS Direct Connect enables you to connect your IT infrastructure directly to Amazon Web Services with a dedicated connection.
*Information provided from company's brochure
CloudHealth
Another booth I went to was CloudHealth. Can you see how the booth is so neatly organized? So HEALTH-y ;)!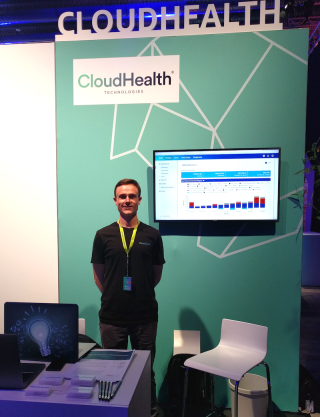 Here's the brief descriptions of what they do.
CloudHealth is the leading Cloud Service Management platform. We give you a centralized console to simplify customer management, streamline billing, and increase your margins.

Companies grow up to 16% faster in the cloud when they use CloudHealth to manage and optimize their infrastructures.
With CloudHealth, you can see:
Who spent how much for which AWS components
The resources of data center
Expired instances
Free 14-day trial is available here!
*Information provided from company's brochure
Conclusion
There were even more companies that I didn't get a chance to talk to. However, I hope I have helped shed some light on the many professional companies that can help you migrate to AWS. We, Classmethod are also very happy to help your business with AWS solutions!
The best chance to learn more about our AWS-based case studies is coming this Wednesday! Sign up now in Eventbrite.
Tschüss~~!!