Hi this is Shaheen.
About Zendesk
Zendesk is a cloud-based support platform that is designed to improve the communication between the company and its customers.
Whereas Zendesk help center, also known as Zendesk guide is a smart knowledge base that allows you to create self-service option and empower agents help center gathers and organises frequently asked questions and everything that your customers ask about.
Zendesk Guide enables you to provide end users with a complete self-service support option and empowers agents to provide better help for customers.
Zendesk knowledge base:
Zendesk Guide integrates seamlessly with Zendesk Support and offers an easy way for support teams to address knowledge management concerns. Therefore, they can update their internal and external knowledge bases using Zendesk products.
If they can't find an answer, they can submit a request to an agent. Your end users can use the information in the knowledge base for answers.
Agents can use the knowledge base to solve the tickets faster.
Knowledge base structure in Zendesk

Category
Categories are top level organising containers of the help center.
The help center must have at least one category.
Section
Section contains related articles.
To add a section, you must have at least one category to act as its parent container.
Articles
Articles are content items such as tech notes or help topics.
Enabling help center in setup mode
The help center is not deployed by default. You must enable it in setup mode.
When your help center is in setup mode, it is hidden from end users and visible only to agents and administrators.
 To enable the help center in set up mode
First sign in to Zendesk account as administrator.
Click on Zendesk product icon and select Guide.
Page will appear, click build your knowledge base.
if you or any other guide manager at your company has already built a knowledge base before then it no longer appears on the interface.
Instead click guide admin where you can prepare the help center for release and activate it.
How to create and publish the article in Zendesk guide
To add an article to the help center
In your Zendesk guide, click "Add" in the top menu bar, then select article.

Enter the content of the article as shown below.
Use the article editor's toolbar for formatting options or to add links, images, or tables.

Once the content is ready, you can set the management permissions for this article.
Under Managed by and click on the drop-down menu and select management permissions to determine which agents have editing or publishing rights for this article.
Editors and publishers enable all agents and admins to edit this article but only admins can publish the article.
Managers enables only Guide admins to edit and publish the article. This option is selected by default on new articles.

Next, you can choose the view permissions options under Visible to to determine who can view this article.

Everyone includes anyone who visits your help center and does not require sign in.
Signed-in usersincludes internal and external users who create an account and sign into your help center.
Agents and adminsinclude staff members only, so that you can create content that is internal-only.
Managers includes the internal users who has the admin rights.
To publish the article:
Under Publish in section, click Select a section, then select a new section and click Ok.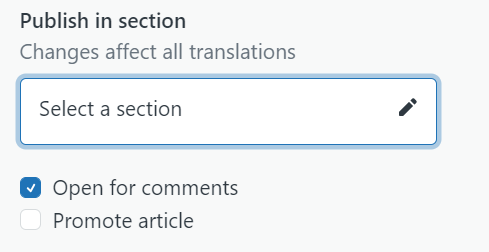 click the expander arrows to drill down to the section you want.
And choose the category under which you want to publish this article.
Chose any of the following options:
To close the article for comments, deselect  Open for comments .
To promote the article in its section, select  Promote article .
To add an attachment, click  Upload attachment on the lower side of the editor.
The file size limit is 20 MB. You can remove an attachment by clicking the  x  next to it.
When you are finished working in the article, you can click on SAVE option.
To publish your new article, click the drop-down arrow on the Save button, then select  Publish now .
Clicking  Publish now  creates the article and publishes it in your help center.
The published article in the Zendesk knowledge base: